Maybe we're in our pajamas. Maybe it's 3 a.m. Maybe we're not even in town.
But in our new world, these are no longer limitations.
For example, in this little corner we gather any time, from many different countries, to memorize scripture together.  We come to encourage or share a photo or ask a question (what does "portent" mean in Psalm 71:7?).
It's online community. It's relatively new to us all. And it's quite an opportunity.
With only a keyboard and screen, we can type out love for God and others from wherever we are to any person with internet connectivity. While online encounters should never replace in-person ones, they are legitimately useful in our modern lives, a positive addition to our global neighborhood.
Here are ten tips to make the most of your online community.
* * *
I'm writing at Do Not Depart today for our Created for Community series. Please join me there.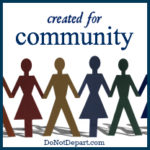 What social media do you use for community?
Have you met online friends in person?